In IMPACT we are proud to present our brand new website with new appearance! Now, our content is easier to reach from the homepage just with one click.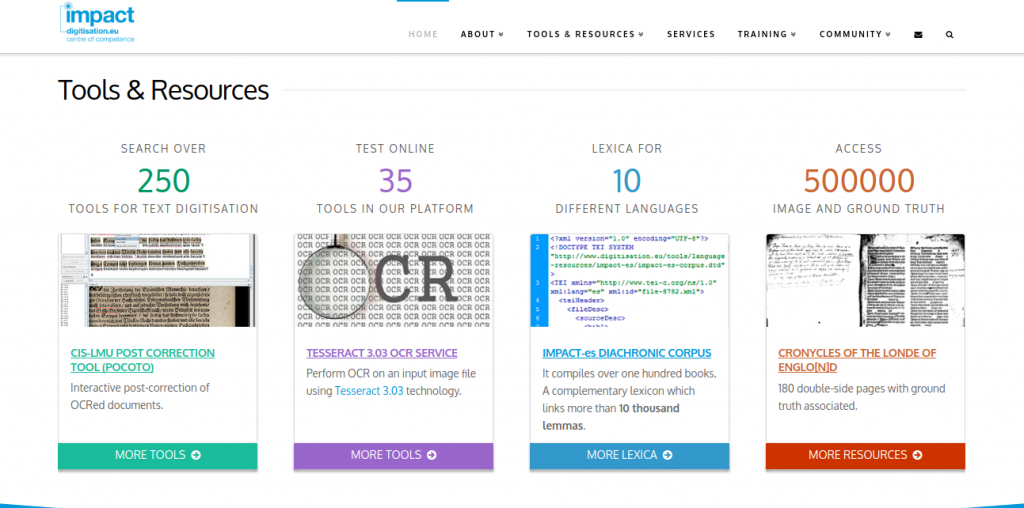 In this post we are summing up the key features of our website and how you can interact with it.
Tools
We have two resources related with tools:
Tools for text digitisation browser. In this browser over 250 tools covering the whole digitisation

workflow

can be found. Tools can be filtered by groups (

image enhancement

, text processing, data, etc.) for your convenience, and with a single click you can discover which tools are available in our demonstrator-platform. But these are not the only features available for our visitors, registered users can also add new tools to the browser through a simple form, so you can contribute with your tools to make this browser even wider.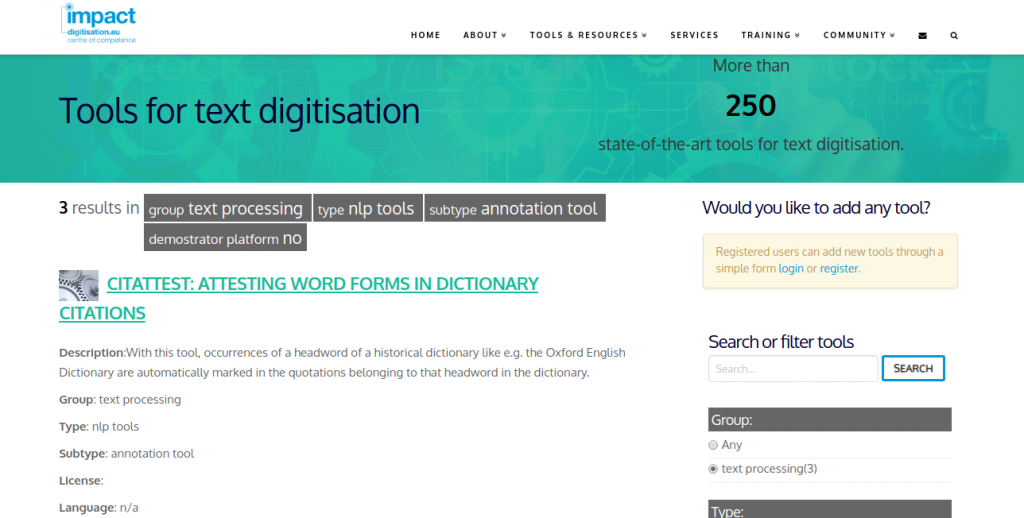 Demonstrator platform. This platform allow users for online testing a number of digitisation tools without installing any software on their computers. Currently, there are 35 tools available that cover the whole digitisation workflow. In this platform, registered users ara able to test the tools with the default values and input files, while members of IMPACT can use their own configuration and input files.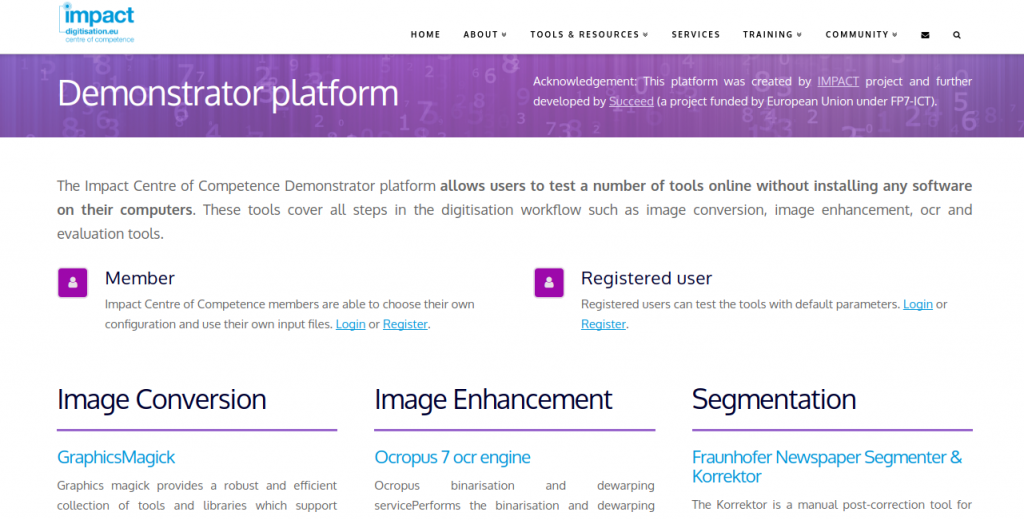 Resources
IMPACT offers two types of resources to improve the text digitisation:
IMPACT Language resources. It is a collection of historical and named-entities lexica and corpora available for 10 different languages. These lexica are freely available for members and registered users of IMPACT and can be used according to the licensing

schema

included in each one.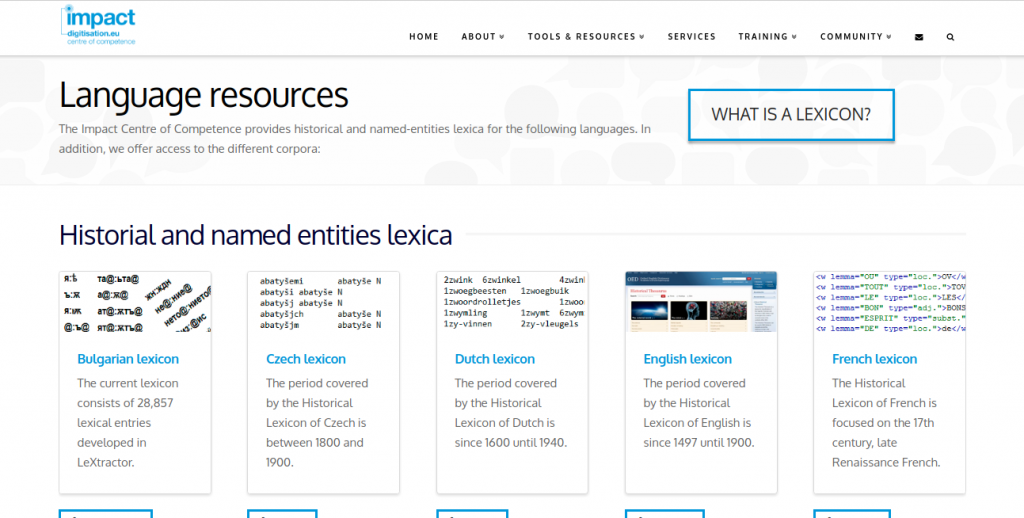 Image and ground-truth

dataset

. It offers members and registered users the possibility of browsing and downloading high resolution images of historical printed text, some of them with ground-truth files associated. Currently, these files can be filtered by institution, language and year of publication (further features are planned to be implemented).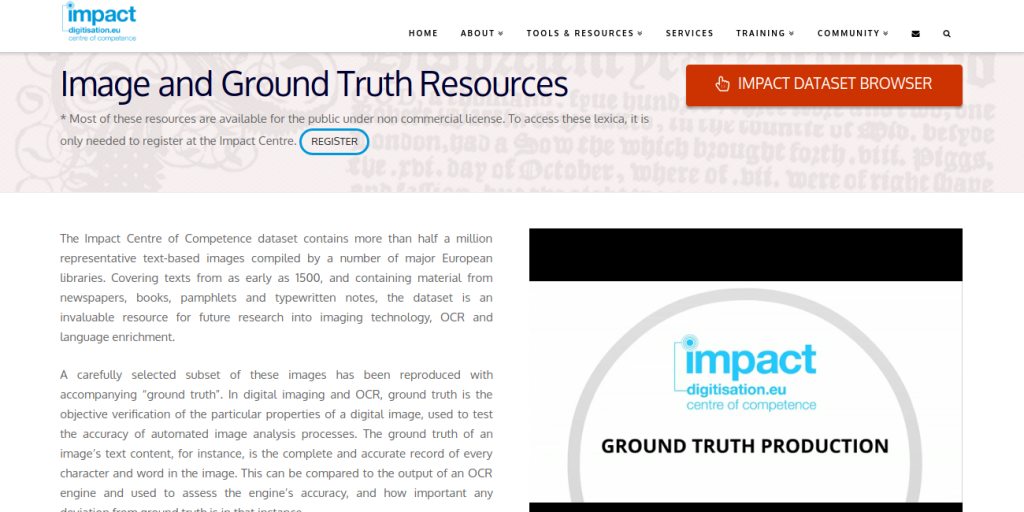 Services
The Services section presents the catalogue of services offered both by IMPACT itself and by its members. These services cover all steps in the digitisation of printed texts. For further information of our services, you can write us at any time at info@digitisation.eu.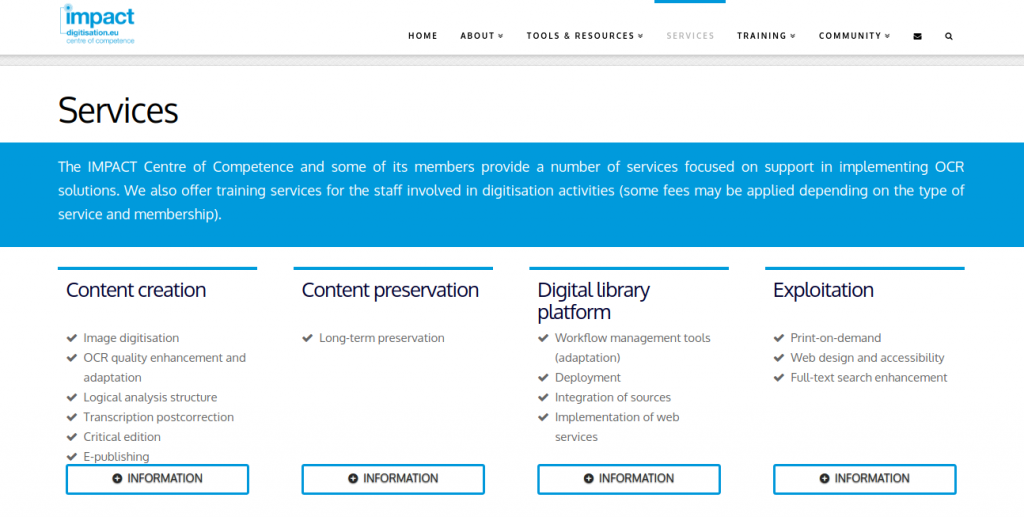 Training
IMPACT offers training materials about digitisation techniques (Impact training materials)and particular tools (Succeed training materials), as well as recommendations for facing digitisation projects (Recommendations for digitisation projects). Additionally to these materials, IMPACT organises face-to-face and online training events such as webinars, workshops and tutorials, all the information is included in Training section.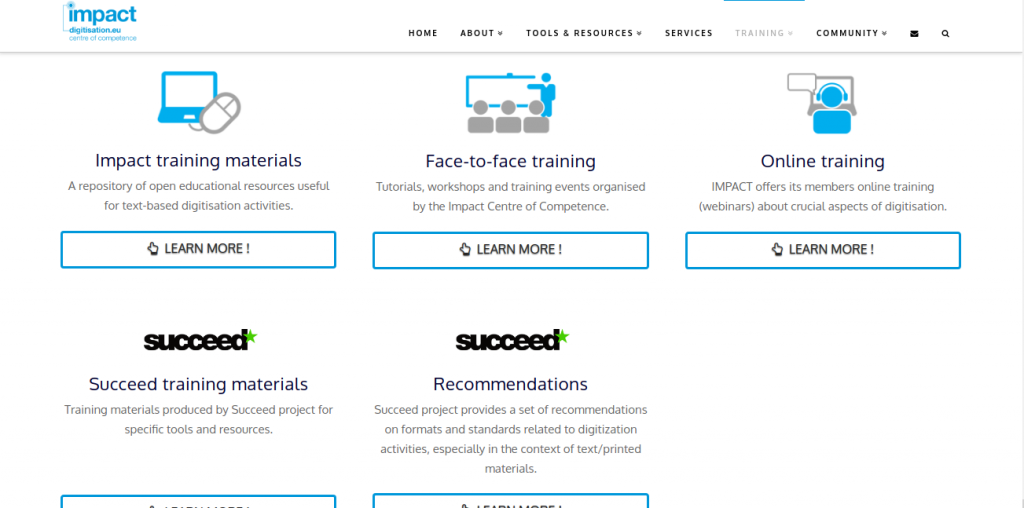 Community
Blog. In our blog you will find latest news on IMPACT, its members and digitisation related fields. If you are interested in participating, you can write us at info@digitisation.eu.
Projects proposals corner. A corner where you can find latest news on EU funding opportunities, helpdesk, information on other ways of funding, etc.
Map of the digitisation landscape. A browser similar to the tools one, but including over 350 projects and initiatives in digitisation. Members and registered users of IMPACT can add their own initiatives by a filling a simple form.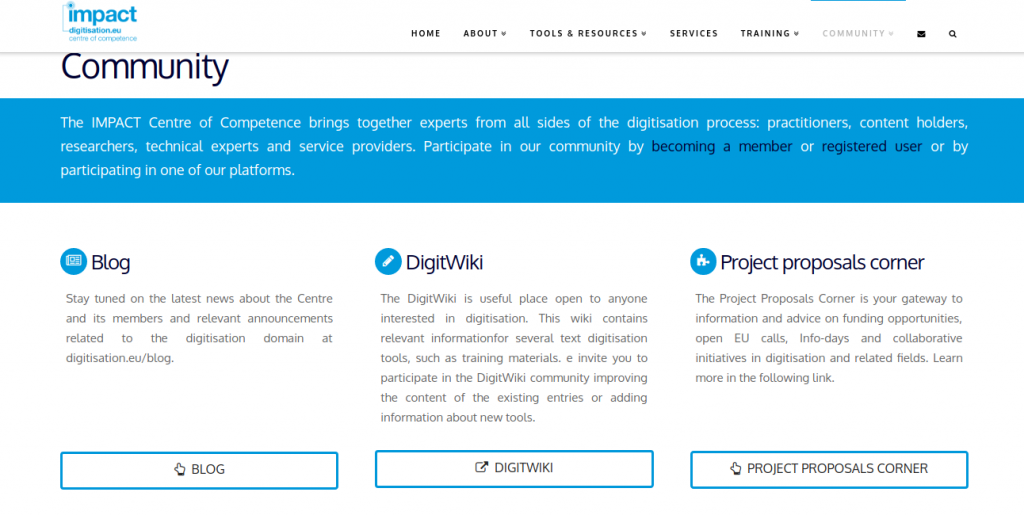 We invite you to look into our site and participate in our community!!