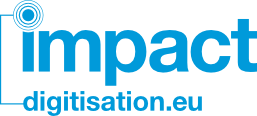 Tomasz Parkoła, from Poznań Supercomputing and Networking Centre, has been selected as new Scientific and Technological Director of the Impact Centre of Competence. He succeeds the outgoing Director, Rafael Carrasco, currently Seconded National Expert at the ERC.
Tomasz Parkoła is an ICT expert on digitisation workflows, preservation and access technologies. He has more than 10 years of experience in the field, including R&D activities (projects like IMPACT, Succeed, LoCloud, SCAPE) and
production level solutions. At PSNC, where he works, he manages development activities of a digitization software package called DInGO, which gives him hand-on experience on application of ICT technologies in digitisation. He has been involved in the IMPACT Centre of Competence as an EB member since the beginning. For the past year he also leads IMPACT R&D working group.
Regarding his expectations in his new position in the Centre, he declares: "I believe that in order to achieve top results in digitisation we need to actively cooperate, set best practices and improve our skills. I expect that in the coming months, together with our members, we will work hard on these aspects".
We wish all the best to Tomasz and are sure that he will contribute greatly to achieve the objectives of the Impact Centre of Competence.