Last September 18th, the Impact Centre of Competence and the Open Preservation Foundation organised a kick-off workshop for their new MOOC on Digitisation and Digital Preservation which  will be launched soon. The workshop took place in Poznań (Poland) within the International Conference TPDL 2015.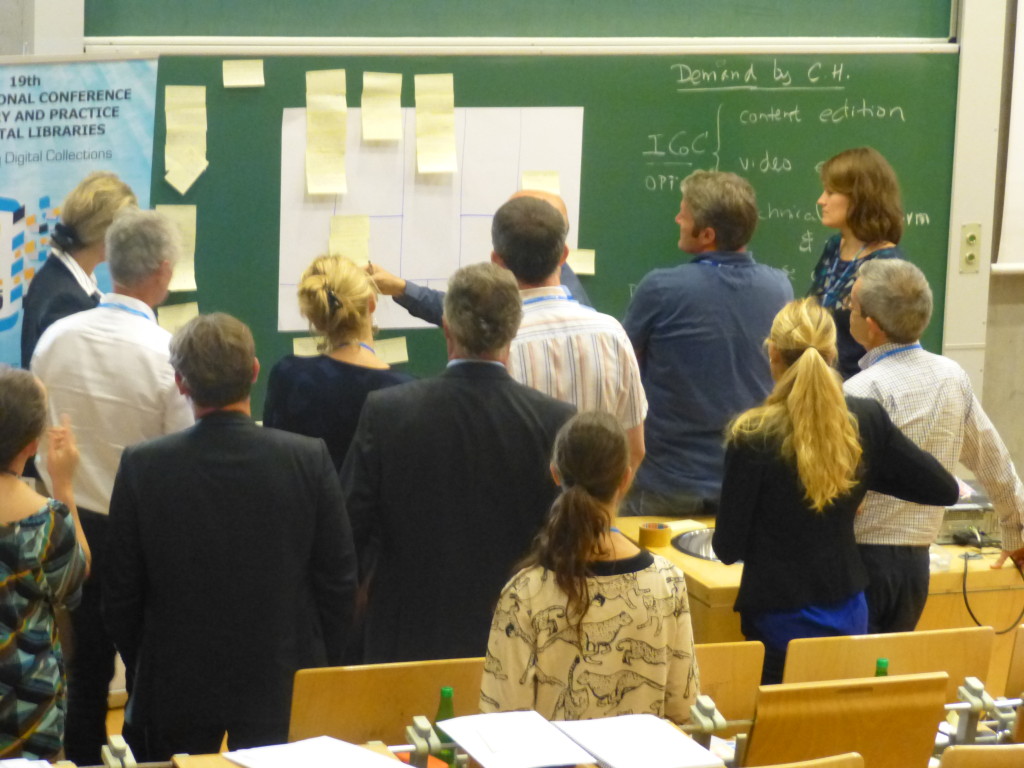 A MOOC, or Massive Open Online Course is an online course aimed at unlimited participation and open access via the web.
The workshop, conducted by Pedro Pernías, an expert in MOOCs from the Universidad de Alicante, gathered almost 20 experts in digitisation and digital preservation from different research and cultural heritage institutions of Europe.
During the one-day workshop, the attendees worked to define the target users of this MOOC, their training needs, and the main topics that will be covered. It was conceived as a dynamic brainstorming session where all participants contributed with their notes to the definition the course as a lean canvas.
The large amount of "post-its" was remarked on Twitter 🙂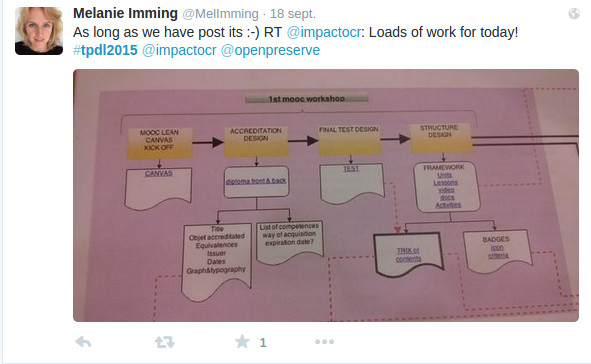 After some general remarks about the MOOC administration and technical management, the participants discussed the target audience of the MOOC. As a result, seven groups were defined:
Focused on access.

Managers – ITs.

Librarians.

Researchers.

Individuals.

Managers.

Students.
The participants created then some typical scenarios and profiles for every group (such as Marvin "the manager", Becky "the archivist" or James "the student"), bringing those characters to life with a picture of their position, background knowledge, and interests. Later the participants identified the specific training needs for every profile. For example, Marvin "the manager" needs to learn the cost-factors involved in digitisation as well as some metrics to demonstrate the cost-savings brought by digitisation; however, Becky "the archivist" is more interested in learning about benchmarks for cost & time or about pros & cons of different processes of digitisation.
Once the user profiles and their training needs were outlined, it was possible to design the diploma to be delivered after successful completion of the course. The design of the diploma will reflect some of the value propositions of the MOOC, which are based on the needs identified previously, for example:
To give an overview of the principles of Digital Preservation.

To teach how to use equipment software to create digital collections of objects.

To show workflows for digitisation process.

To teach to understand different tools and technology.
Finally, the participants prepared a list of competences to be achieved by students in order to get the diploma. These competences shaped the MOOC into six main topics or modules:
General introduction.
Image

capture

.

Conversion.

Publication.

Management.

Preservation.
The results obtained in the workshop provide the foundation for this new MOOC on Digitisation and Digital preservation. We will be working hard in the following months to prepare the best MOOC in the field!